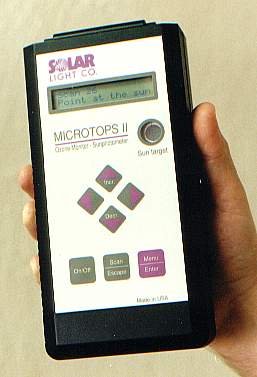 This instrument, equipped with the highest grade and long stability filters (with ion-beam assisted deposition)  305, 312, 320, 936 & 1020 nm, which embedded into a solid cast aluminum housing, assures accurate, stable optical alignment.
MICROTOPS II is a hand-held device for simultaneous measuring of direct solar ultraviolet radiation at 3 discrete wavelengths within UV-B range and total columnar ozone content, accurately and dependably, and also for measuring total water vapor and aerosol optical thickness.
MICROTOPS II has low noise electronics and 20 bit A/D converter to give an accuracy (< 2% for ozone) comparable to much larger and more expensive instruments; it has non-volatile memory, and can be connected to the PC through the RS232 port for data transfer, easy of use and portable, and has low cost.
MICROTOPS II has built-in internal barometric pressure and temperature sensors that provide the information to compensate for Rayleigh scattering both for the ozone and aerosol optical depth measurements. An optional external GPS receiver facilitates field measurements. Ozone and total water vapor content calculation algorithms are programmed in the MICROTOPS II and the final results of all stored scans can be viewed on the LCD.
The raw data are also stored in non-volatile memory to allow retrospective adjustment of algorithms. Each data point is annotated with date, time, site coordinates, solar angle, altitude, pressure and temperatures. By implementing the latest technology, instrument cost has been brought well below that of comparable ozonemeters, without sacrificing accuracy or features.